So that Christmas is not just about shopping, we'll support nonprofits for every item purchased in our online shop.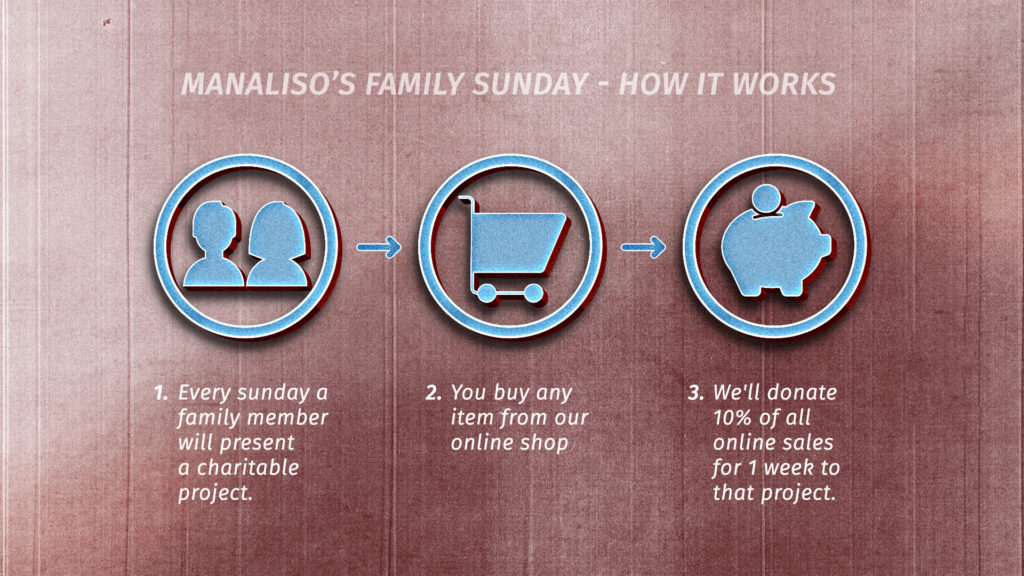 Our family members pick an organisation, that is important for them. It may be a local project in their district or an organisation dealing with the garbage in the oceans.

The most important part is: You'll support that organisation as well. We will donate from the day of the introduction for a whole week 10% of our online sales. So, whoever buys their Christmas gift in our online shop, will help raising awareness and money for the projects as well!
We already know Clemens and Isa back from school. We reconnected through Manaliso and Coldwatermag – their blog collecting beautiful photography and stories about coldwater surfing.
Isa and Clemens picked the Surfclub Altona as their personal project, we all want to support. The nonprofit organizes surf camps and other holiday adventures for kids with a low income background.
We'll donate 10% of our weekly online sales to the project. We also prepared a little interview with them:
What does Christmas mean to you?
Isa: In the afternoon, I am going to relax and start cooking with my dad. We chat, drink the first glass of wine and, eventuelly, after a beautiful night with lots of time – we usually don't have – we swap kitchen to living room and couch. The most important thing is shared time with friends and family and – of course – cookies.
Clemens: Christmas is the time when everybody is extremely busy and still those brilliant moments with friends show up. There seems to be so much energy in the people and this time of the year.
What's your wish for next year?
More time for what really counts: watching a sunrise, spending time outside and working on projects with real passion. Besides that, 2018 could be more peaceful, because 2017 was extremely crazy.
Our favorite bavarian Daniel Ziemer also gave us a little interview and picked a project, he's directly connected to.
What is your personal project and have you picked it?

I have chosen the SFZ (a center for special education). They are doing a great job every day and deserve more attention. I am suprised with what amount of energy and passion the teachers are always present in their daily work.
What does Christmas mean to you?
Christmas is mainly about calming down, hiking in the mountains and family reunions… ideally – of course and maybe this year – Christmas also means a lot of snow. It's just better than looking outside and everything's green while having temperatures of 20 degrees.
What's your wish for next year?
My wish for next year is – not world peace – it would surely be nice but there are too many lobbyists and huge corporations. In this sense, this is not an appeal for revolution against continued and hardened systems BUT a HUMAN "wake up call" to all of us…
to think about our food (keyword: "glyhosate") a social awareness (keyword: "dog-eat-dog society") and your attitude towards the unknown (keyword: "refugees welcome"). Everyone of us can take her or his personal step forward.
Hans Wouters, yes, that young ambitious longboard dude from Youtube also answered our questions.
What is your personal project and have you picked it?
A Future On Wheels. I got to know about it at SYCLD and was really heart warmed by what they're doing.
They organize longboard activities for children in Cambodia who don't get any talent-developing activities. They've put it beautifully themselves: "The children will get the opportunity to discover and develop their talents through longboarding which can contribute to personal development. "
What does Christmas mean to you?
For me, Christmas is just about the family time. It's just an occasion on which your whole family comes together and I love that about it.
What's your wish for next year?
I'd wish for health for everyone around me and myself. It's also a super cheesy answer but it's the thing that scares me the most, so that's the only thing I wish for. If that's okay, everything else will just play itself out.
The faces behind Treibholz Boards are two North German dudes, starting off by shaping their own boards and eventually ended up with an own shop and work shop in Stralsund. Their claim "coast for the streets" narrows the whole concept down to what it is. Marius – one of those North German dudes – also gave us a little interview for Christmas.
What is your personal project and have you picked it?
I have picked the local project Chamäleon Stralsund e.V.. They help young people to get back on track. They help finding apartments for young people that are having a hard time due to drugs or psychological pressure. For the summer we had an intern who we got to know through the organisation. He not only did a great job, currently he's going back to school for his graduation, is clean and wants to build his own skateboards.
What does Christmas mean to you?
Stress, preparing tarte flambée (French speciality). This year, we have two babies. Next to the shop and work shop we opened up a little Christmas market in the backyard. That's a lot of work. On Christmas Eve, every year, I'll reconnect with my old friends from school in a local bar. That's definitely my personal highlight.
What's your wish for next year?
An winch for wake boarding. 😛 We are working on our own wake boards and kite boards, that are going to be available early next year. The expectations and our aspiration is obviously high. Besides that, I'll wish for lots of wind for surfing, a decent kebab in Stralsund, legalisation of pot and a real summer.
–
Thank you for 2017!
The Manalisos